INDICATIONS :
1) MUSCULAR PAIN: For pain caused by blows, twists, sprains, colds, over exercise as well as slight rheumatic & arthritic pains.
2) RESPIRATORY AILMENTS : To help clear breathing tract, relieve cough, throat irritation and discomfort due to common cold.
3) SPORTS PRE-WARMING UP: To warm up muscles before starting any exercise.

SUGGESTED USE
1) MUSCULAR PAIN : Apply CREMOSTAZA over painful area with a soft massage two or three times daily, until pain disappears.
2) RESPIRATORY AILMENTS : Rub CREMOSTAZA on chest, throat & back, at night, during two or three nights.
3) SPORTS PRE-WARMING UP: Ten minutes before initiating exercise, apply CREMOSTAZA over area of mayor effort, as legs, arms, back, knees, waist etc.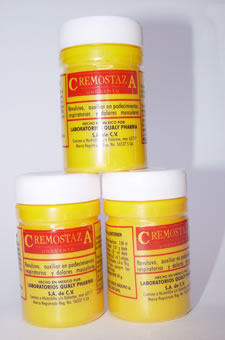 THE ONLY ONE WITH TRIPLE ACTION..... YOUR BEST CHOICE.
INGREDIETS


Each 100 grs. Contain : Methyl Salicilate 5.32 ml., Alcanphor 2.67 grs.,
Menthol 2.67 grs., Essential Mustard Oil 2.00 ml., Essential Eucalyptus Oil
1.33 ml., Essential Trementine Oil 0.67 ml.


PRESENTATION

Ointment , 50 grs. Jar.
WARNING

Do not apply to persons with sensitive skin, nor over wounds, eyes, nose, mouth or genitals.

MADE IN MEXICO BY:


Laboratorios Qualy Pharma, S.A. de C.V.